What to try in Miskolc: for those who love tasty and nourishing food
2291
Miskolc is a typical Hungarian city with an ancient rich history, magnificent nature and monuments of architecture, some of which have been preserved since the Middle Ages. But it also has a gem, that brings tourists here from everywhere. This gem is the unique thermal springs, the only ones in Europe. For many centuries, the healing water was creating caves in the mountains and nourishing the lake. And now in the cave baths and in a pond under the open air, Hungarians, as well as their close and distant neighbors, bask in the thermal waters, heal, relax and simultaneously gain strength and energy.
But, to paraphrase the famous expression, you will not be full on the water itself. Not only thermal springs are unique in Miskolc, but also gastronomy. Here you can find traditional Hungarian dishes, and local culinary masterpieces, in honor of which even festivals are arranged. So, IGotoWorld invites you to a virtual gastro journey, but warns that you will really want to eat, so stock up on something appetizing or a snack before reading.
Aspic of Miskolc
The aspic (kocsonya) in Miskolc is not just a delicasy, it is a brand, a special gem, because of which the city became known far beyond its borders. And merchant with toad contributed to this in the 19th century. And no, this is not a metaphor, not a fairytale about the bewitched princess frog and the kindly handsome young man, no magic, just a local legend.
In 19 century Miskolc was known as an important transit point. Traders and other people were passing through it. Because of this, the city had a lot of guest houses, yards, boarding houses, where guests stopped to rest. Naturally, they ate local dishes, including a delicious aspic, which even then had good reputation. So, during one of the diners at the boarding house "Hungarian Hussar" a transit merchant ordered aspic. The hostess of the boarding house kept the kocsonya in a dark, moist cellar, where not only food products, but amphibians lived in peace. A toad managed to fall in one of the these bowls. Kati did not notice this and gave the guest a "specialty". Of course, the merchant was more attentive and found the "surprise". The guest and the toad crossed eyes: "This aspic has eyes! It winks at me! " the merchant cried.
What happened next with a toad and a portion of jelly, the legend keeps in secret. It is known that the guest was very fond of the aspic, and he bore glory about him throughout Europe and the world. And Hungarians, after more than 100 years, in the 21st century, began to organize a festival in honor of the kocsonya and frog, called the "Kocsonya Farsang". It takes place in winter and lasts only two days, this is why tourists that are interested in it are advised to plan the holiday in advance and find out the time of the event.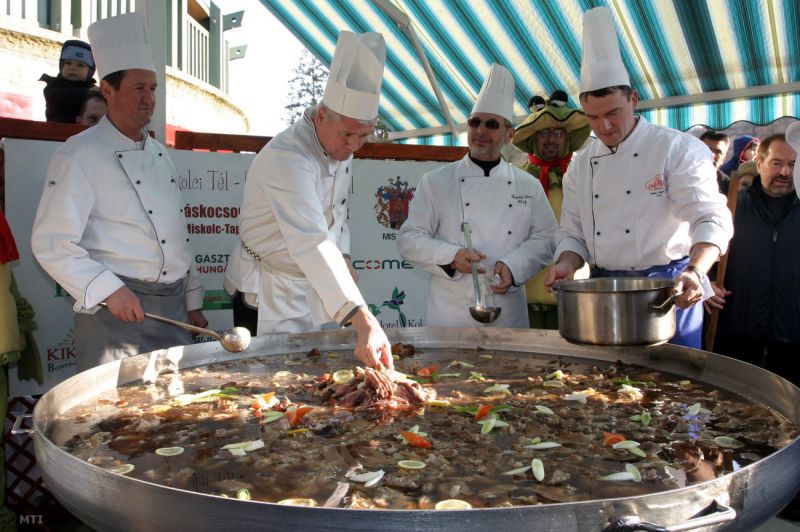 Photo: Vajda János.
Guests are entertained by artists, musicians and, of course, frogs – they are everywhere and in any form: toys, animators in appropriate suits, dishes in the form of toads. Here you can eat not only aspic, the quantity of which is estimated in tons, but also enjoy sausages, hot, salted bagels of enormous size, crispy cakes.
Trout from a local farm
People in Miskolc tried to create the trout farm for a long time. Since 1906, attempts have been made to revive the population of river trout in local reservoirs. In the 1930s, after several unsuccessful attempts and, eventually, a change of breeding place, the process of breeding fish was established. But this success was not the final point. For decades, the owners of the farm have worked in order to improve and expand their business. As a result of tireless labor, the trout farm has grown to 18 ponds and 20 to 36 tons of fish per year.
There is a trout farm in the Miskolc area – Lillafüred. Here, a brown brook (lake trout, a local species), an iridescent (steel head) and a tiger trout are bred. It is exported in large lots and cooked for visitors at a local restaurant. Guests are offered to taste trout in bacon on a grill, fried, trout with garlic.
For cooking fish two kinds of flour and eight types of spices are used. But hot smoked trout is a definite winner of the competition. Its taste is obtained by keeping the fish in a sauce of 12 herbs. Ttrout is served with French fries, pickled cucumbers, French sauce. Fresh fish can be eaten from May 1 to September 30, fishermen catch it daily, so you should not worry about the freshness of the product.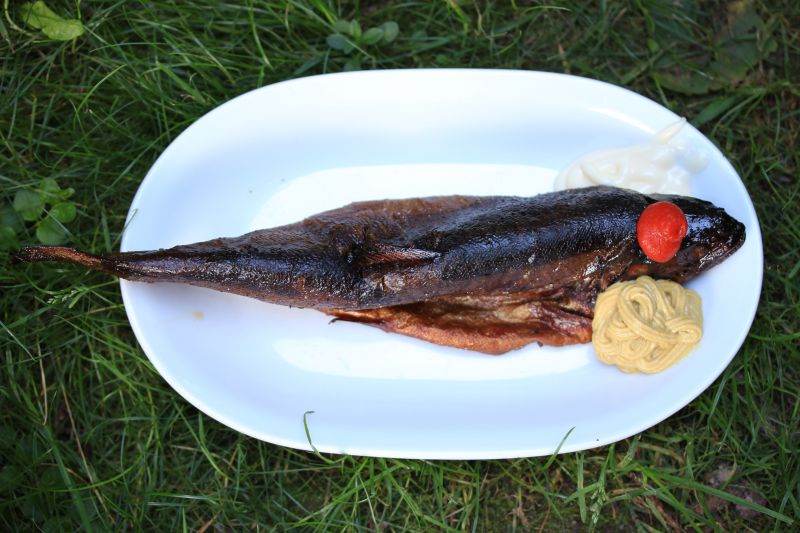 By the way, the local restaurant is on the 66th place in the list "Dining guide" – guidebook of the best restaurants in Hungary. And if you consider how many restaurants there are in the country, this is a great achievement.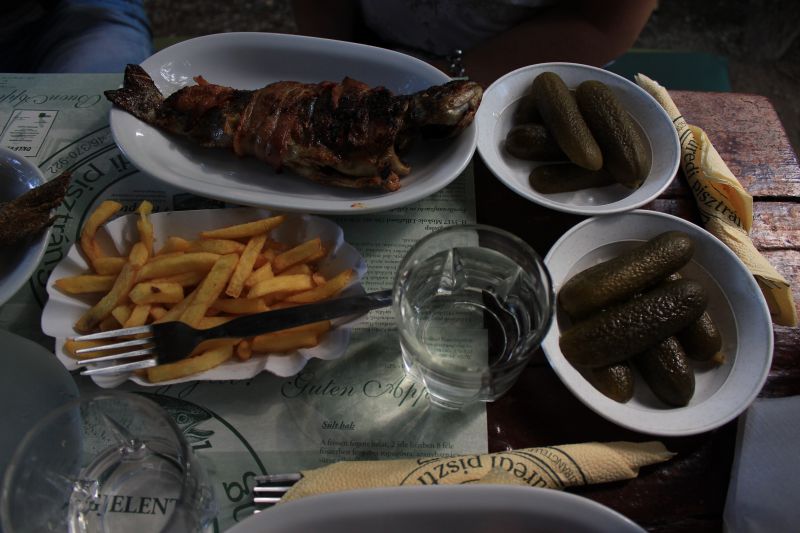 Goulash
Goulash is a traditional dish for the whole of Hungary, and not just for Miskolc. They serve it everywhere. And although it should not be in the selection of traditional Mishkolc dishes, but it is difficult to imagine this list without goulash. The peculiarity of the Hungarian food is that it is not the usual meat for us, but a thick and rich soup, which consists of finely chopped vegetables, meat, small dumplings. All this is abundantly flavored with paprika.
Meat dishes
Pork knuckle
The gastronomic Miskolc is famous for its pork knuckle. It is especially delicious in "Aranykorona". This institution is not just a restaurant, but also a wine cellar, a hotel and a mini museum, in which you can see various kitchen utensils of past times: teapots, samovars, coasters, jugs, cans, etc.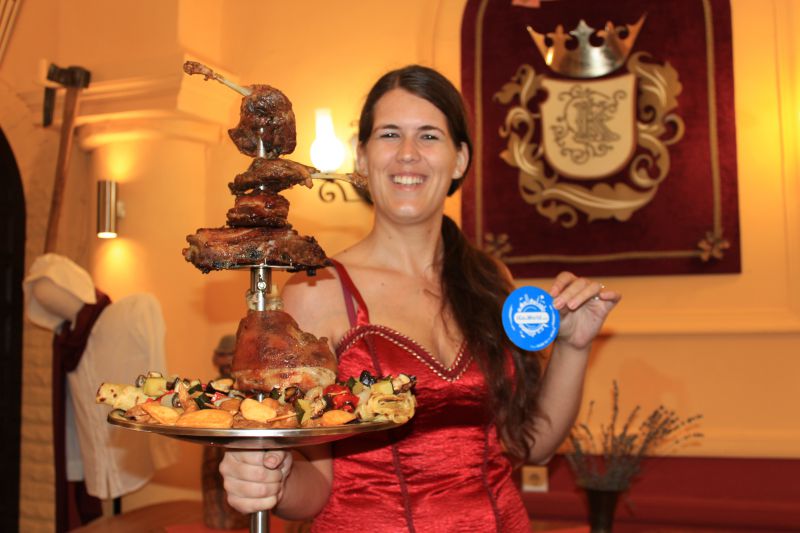 The restaurant hall Aranykorona also does not really remind you that you are in the courtyard of the 21st century, because going inside, you feel as if you entered the Middle Ages. By the way, except for pork knuckle, we recommend you to taste appetizing ribs and duck legs on a plate. This is the restaurant's signature dishes.
Paprikash
Like goulash, paprikash is a traditional Hungarian dish. It is made from bird meat. But why this dish is worth trying in Miskolc? The fact is that in this city in many restaurants the bird is replaced with pork or beef, which makes paprikas especially tasty. Meat is stewed in sour cream with, of course, paprika, and other spices. It is served with garnish – mashed potatoes.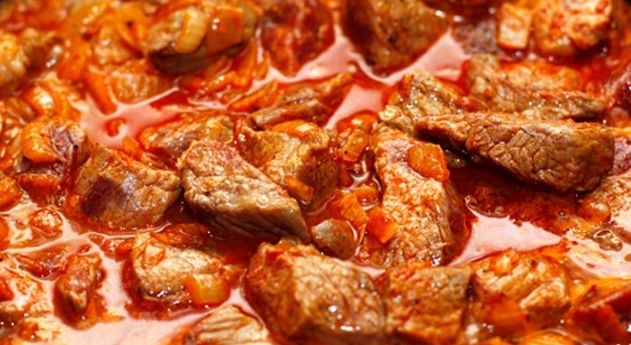 Local wine
How can you have lunch or dinner in a wine-growing country without wine? There are no vineyards in Miskolc and its region. But in the old times there were many wine cellars in the city. They bring wine from the neighboring region Tokaj. In this area, only white grapes are grown, from which wine is made. The most famous local drink is the dessert wine "Azu". You can find it in almost any restaurant.
Dessert and wine in Aranykorona.
Potato bread
There were times in Miskolc when there was a shortage of wheat flour for the preparation of bread. Smart Miskolc residents did not replace wheat with other grains, but decided to add potatoes to the dough. Fortunately, the wheat deficit happened already after Columbus and this root crop managed to settle down on local lands.
Photo source: 1000.menu.
Sausage
The traditional Miskolc sausage is prepared according to pre-Columbian recipes, when Hungary, known today for its gastronomic delicacies with an abundance of red pepper, has never heard of it (paprika has actively been used by local culinary specialists only since the 18th century). The locals did not bother a lot with the name of and gave it the name of the famous Miskolc castle Diosgyor. By the way, we wrote the article about the castle and other gems of the city: "Sights of Miskolc: 9 places you should visit".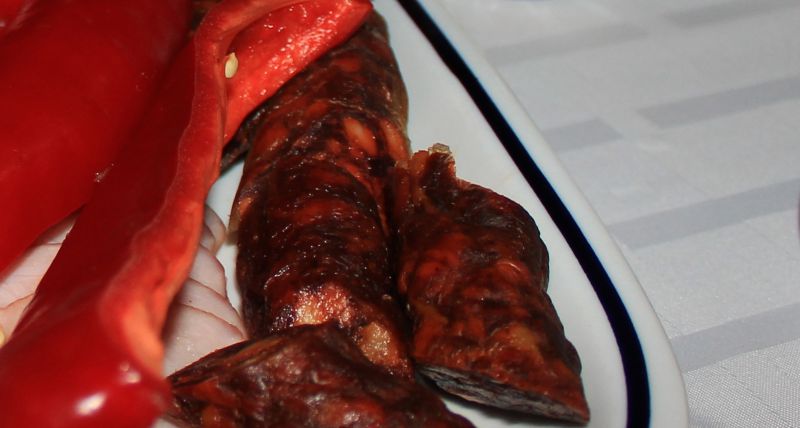 The sausage recipe was invented by medieval monks in the 14th century and for its preparation spices and they used herbs that grew in the gardens of the monastery: thyme, garlic, marjoram. The sausage is smoked, that is why it can be stored for a long time. It can be bought as a gastronomic souvenir together with the famous Hungarian wine to present to relatives and friends.
Budget dinner
For tourists, whose budget is not designed for visiting restaurants, as well as for those who do not want to sit too long at lunch, local people has advised us to visit the café A Leves. For a tourist, this is the number one rule: local people eat where it is tasty and affordable. Here they prepare an appetizing soup that you can take with you in a paper cup. It is very convenient if you are walking around the city and decided to have a snack quickly, well and cheaply.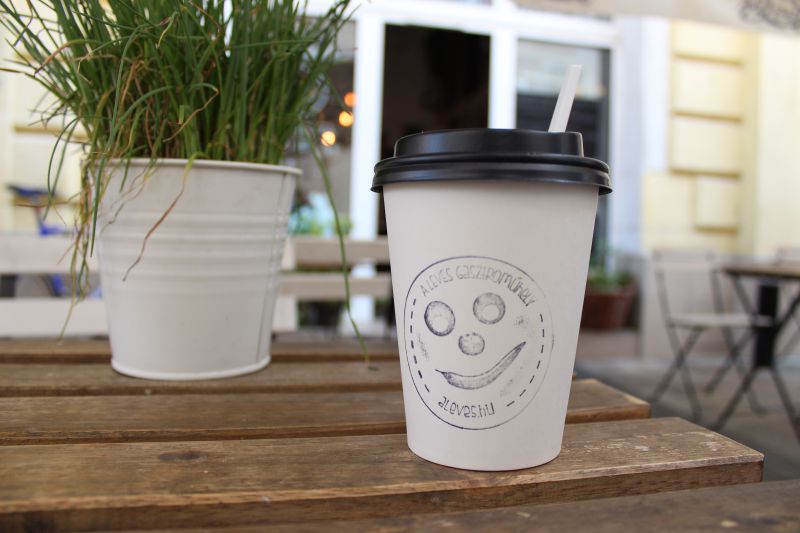 And how can we forget about the sweets: desserts and coffee in Miskolc
Traditional desserts for the whole of Hungary are strudel, cuddly cakes (a delicacy made from puff pastry in chocolate glaze) and Esterházy (a delicacy from almond cakes and custards). But there are special sweets in Miskolc – this is the cake with the same name, which is served in the one coffee shop.
Miskolc Cafe is worth a visit, because in the same room you can find tourist information center, whose staff will talk about the nuances of staying in the city. In addition to many souvenirs and tourist booklets, here you can purchase a tourist card Miskolc Pass, which will help you save a lot of money on visiting attractions, as well as local cafes and restaurants.
The same as wine, coffee is a traditional drink for Hungary. But this does not mean that it is the same everywhere, on the contrary, in each cafe Miskolc they prepare a unique coffee, according to their own recipes. So you will not find two identical tastes in different places. So in Miskolc Cafe, be sure to try their brand coffee. The cafe is located in the very center of the city (Széchenyi István út 16) and you can enjoy a beautiful panorama of the street from the terrace.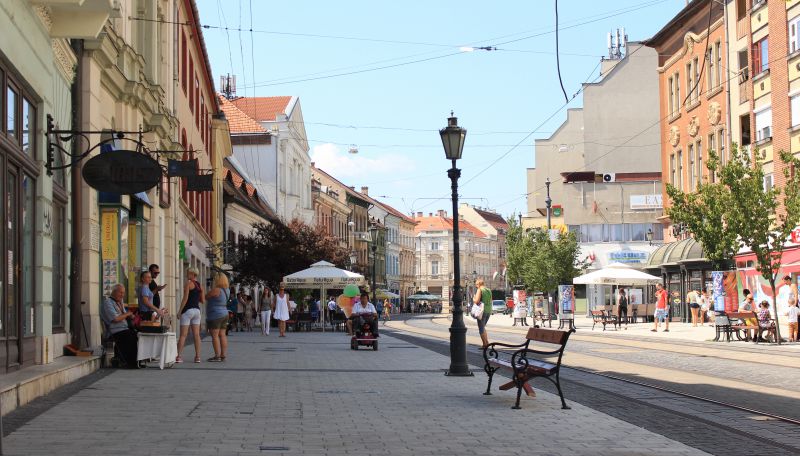 Choose your favorite dish and get the taste of Miskolc: so varied, but always appetizing.
Photos in the article by IGotoWorld Photo Group: Eugene Naryvsky, Tanya Smirnova, Oleksandr Safronov.
If you liked the article, tell your friends :)