Hungary
In the very heart of Europe there is a small country. It is Hungary. Past and present have harmoniously intertwined here. Ancient castles and fortresses combined with modern architectural masterpieces, as well as amazing landscapes and developed cities make this country unique. In the northern part of the country, you can enjoy majestic mountains with unique caves, the Hungarian east is famous for its vineyards, and in the south there are numerous national parks. Hungary has also gained its fame due to excellent wines and well known hot springs. Not by chance it is called the country of medicinal water.
On the gentle banks of the Danube River, the ancient city of Budapest is located. This city has long been the capital of the country and is considered to be its gem. Architectural creations of different centuries are in harmony with modern residential areas and monumental Gothic buildings. The main capital's tourist attraction destinations are: the Hungarian Parliament Building, the Hungarian State Opera House, the Hungarian National Museum and Matthias Church, where representatives of European royal families marry.
Buda side, an old part of the capital, is world-famous for unique Buda Castle. Medieval theatrical performances are arranged for castle's visitors in the underground caves. You'll also have an opportunity to see petroglyphs, ancient sculptures and walk through the mysterious tunnel. Once you have climbed Gellért Hill, the highest point of the capital, you'll enjoy the spectacular scenery of Budapest. Just have a walk along cosy streets of Pest, an eastern part of the city, and you'll feel its unique romantic atmosphere.
Budapest isn't the only city rich in places of interest, thus other cities also attract travellers with their beauty and originality. Combination of different styles, religions and traditions is typical for each of them. No matter where you are, you'll admire brightly coloured neat houses with their stained-glass windows and turrets, colourful flowers on the windowsills and balconies, historical fortresses and ancient castles, cathedrals and historic squares. Walking along cosy streets of Szentendre you can admire colourful houses surrounded by blooming front gardens, relax in a cosy cafe and enjoy aromatic coffee with delicious local desserts. Szentendre is a favourite town of writers, artists and musicians. Despite the fact that the town occupies a quite small area, many interesting museums, including the Szabo Marzipan Museum and the National Wine Museum can be noted by you there.
Castle town Visegrad, a residence of Hungarian kings of the 13th century, is located in the northern part of the country. Its feature is an ancient fortress, where you should expect a sweeping view of the city's neighbourhoods and the Danube River. The town has gained it fame not only due to natural beauty, but also thanks to the Wax Museum, where you can see exhibits being exact replicas of many celebrities.
Those to be fond of national holidays and various folk festivals won't be bored in the city of Eger that offers to learn the original Hungarian culture, traditions and customs. This city is well known for its famous red wines that can be sampled at one of numerous wine cellars. You are well advised to visit Tokaj-Hegyalja, a historic district of winemaking. At this area, wine is made from late-ripening grapes grown on the sunny slopes of the mountains. Russian tsars, Polish kings, and the pope have bought wine made in this region. So, don't miss such opportunity to sample excellent wine in a cosy wine cellar. The town of Tapolca offers interesting excursions to underground caves with clean rivers and lakes. Due to the unique natural microclimate, therapeutic hot springs have been formed here, and the temperature is always within twenty degrees Celsius here.

However, you can improve your health not only in Tapolca. Many resorts have been built at both Heviz Lake well known for its therapeutic properties, warm water and peat bottom, and Balaton Lake, the largest one in Central Europe. Famous thermal baths such as Gellert, Lukács and Szechenyi are open year-round and offer a wide range of services, including baths and saunas with different temperatures, a variety of pools, hot whirlpools and massage rooms.
The northern part of the country is covered by Cserhat, Bükk, Matra and Zemplen massifs with their natural treasures. Aggtelek stalactite cave is one of the most unique geographical phenomena of the planet, thus being listed as the UNESCO World Heritage Sight. The mountains are also well known for their ski resorts with comfortable ski tracks of any level. For best skiing you are advised to visit these resorts in December and January, as most of the country is under the influence of moderate atmospheric fronts.
A huge number of music- and theatre-goers visit annual Hungarian festivals. The most popular of them are The Budapest Spring, open-air Theatre Festival of Szeged and Budapest Summer Festival. Concerts held in Martonvásár are very popular too, as you can hear musical compositions of Ludwig van Beethoven. Solo performances of talented musicians and artists from around the world can be heard during these festivals as well.
The Hungarians keep their culinary traditions and are proud to have such variety of special dishes. Undoubtedly, the most famous is goulash, as well as stuffed cabbage rolls and all kinds of roast meat. The spice one can't imagine the Hungarian cuisine without is paprika, brought to the country in the 16th-17th centuries. It can be sweet, pink, hot and spicy.
Beautiful Hungarian landscapes as well as ancient cultural and historical monuments won't leave indifferent anyone! And the famous Hungarian hospitality will captivate you for a long time.
Administrative division — Hungary
capital of the country
major cities
counties (megyék)
Tours and excursions Hungary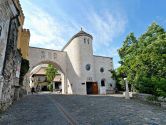 Секешфехервар - первая столица венгерского государства
В небольшой деревушке Урем, что расположена в 13 км от Будапешта, находится усыпальница Великой княгини Александры Павловны Романовой, старшей дочери российского императора Павла I, супруги эрцгерцога Йозефа Антала — представителя династии Габсбургов, родного брата императора Австрии и Священной Римской империи.