Cave Bath in Miskolctapolca, Miskolc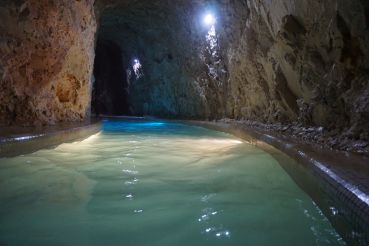 Barlang fürdö cave thermal bath is situated in the suburbs of Miskolc – Tapolca and it is almost the only complex in Europe of hydropathic baths with thermal waters. Another feature of this natural landmark is that it is located in caves, with healing springs have been there for thousands of years.
What to do in the Cave Bath
The water temperature ranges from +20° to + 36°, and the length of the cave is about 50 meters. Pleasant turquoise water attracts not only lovers of water recreation, but also those who want to improve their health. After all, it contains elements such as iodine, bromine, calcium, magnesium, radon. The healing effect of karst waters is complemented by a unique climate.
In the caves you can also enjoy swimming in the open air, admiring the bright rays of the winter sun. In the natural environment, you will find six swimming pools with entertainment:
3 swimming pools for children;
lake swimming pool;
pool-shell;
pool for swimming.
The cave bath in Tapolca is surrounded by a large park, on the territory of which there are:
Indoor swimming pools, open all year round.
Two thermal pools with a temperature of 33-35 degrees.
The Roman Hall with a temperature of 32 degrees.
The Star Hall with a temperature of 32 degrees.
The old cave pool – temperature of 30 degrees.
The bath – temperature of 29–30 degrees.
Hydro massage pool.
Park of saunas.
Two Finnish saunas with lava stones.
Steam room for 14 people.
A standing solarium.
Additional services:
refreshing massage;
lymphatic massage;
detoxification;
treatment of allergies;
treatment to reduce stress and relieve pain;
manicure and pedicure;
fish pedicure;
salt room.
Where to stay
Not far from the cave bath there is the refined hotel "Avalon", in which you can have a great time. Another interesting place to stop, is in 10 minutes drive – the three-star hotel, restaurant and wine cellar "Aranykorona" ("Golden Crown"), located in the historic center of the city, at the foot of Mount Avas.
How to get there
Tapolca can be reached by bus number 2, which departs from the bus station Búza tér in the city center. To find a cave bath, you need to get to Istvan Pazar Passage, 1.
Opening hours: from 9:00 till 20:00.