Weidlich-palota, Miskolc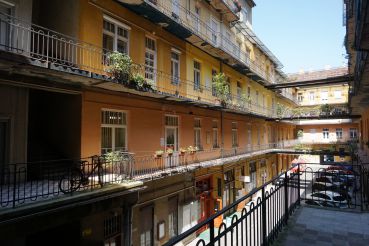 In the center of Miskolc on Széchenyi István street there is a beautiful building that "stands out from the crowd" with its unusual facade in the style of late modernism. But the inner courtyard of this house is more interesting. Those who have been to Budapest, will find this yard familiar, but in Miskolc this plan is almost the only one. This is the Weidlich-palota, built in 1911. At that time the building was the first shopping center in the city and the largest apartment building. There were 24 shops and 30 apartments in it. Today the Weidlich-palota attracts visitors with beautiful balconies and historical past.
History of Weidlich-palota
The owner of the building was Weidlich Paul, who settled in Miskolc in 1881. He played an important role in the development of the social and economic life of the city. The trading palace of Weidlich was built in the heart of Miskolc, which contributed to the success of the trade.
Grocery stores, a tailor, a shoe shop, a furniture store, a bookshop and a hairdresser were opened here. Until 1930, the house had its own cinema "Apollo". Previously, the luxurious façade of the building included towers with tympanums. During the active development of the city in the 1960s, the tower had to be demolished. In 2012, the facade was reconstructed.
Pay attention to the forged gate from the street Széchenyi István. Initially, according to the plan, the gate would lower to open a passage for transporting the goods. The gates work to this day, however, more for the needs of the tenants of the house, and not for the shopping center that used to be there.
How to get there
The Weidlich-palota is located on one of the main streets of Miskolc – Széchenyi Street. It can be reached by tram № 1V or 2V to Villanyrendőr stop, as well as on one of the buses №  1É, 14, 20G, 28, 34, 35, 35R, 43, 44 and 280.
Near Széchenyi, there is one of the best Miskolc's promenades – Szinva Terrace. Here you can see the sculpture of the Miskolc girls. Nearby there are several interesting attractions – a monument to the dog Mancs and the Bridge of Lovers.