Szinva Terrace, Miskolc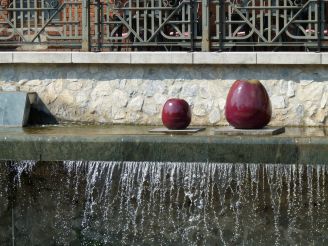 The Szinva Terrace is a modern square in the center of Miskolc, built on the river Szinva in 2005. The terrace is always crowded, because here you have everything you need for a good walk – beautiful romantic views, cafes and restaurants. Modern design of the square attracts too. It consists of stairs and terraces leading to the river and an artificial waterfall, which is illuminated at night. In the rainy season, the flowing Szinva is gathering volumes and the stepped terraces are filled with noisy streams.
By the way, this is one of the few places in the center of Miskolc where you can see the Szinva, since it is mostly hidden under the city. Walking around the square and downtown, pay attention to these marks.
They indicate the water level in the city during the flood of 1878. This was the most massive flood in Miskolc and it took many human lives. About 2,000 buildings were destroyed.
What is worth seeing on the Terrace:
Near the terrace, Kandia Street is located, which often hosts exhibitions of paintings.
As well as the popular in the city Széchenyi Street, where there are many interesting places, including the Weidlich-palota.
How to get there
To the Szinva Terraces in Miskolc, you can get by using trams № 1 or 2V to Villanyrendőr, or one of the buses № 1É, 14, 20G, 28, 34, 35, 35R, 43, 44, 280.