Holy Trinity Greek Orthodox Church, Miskolc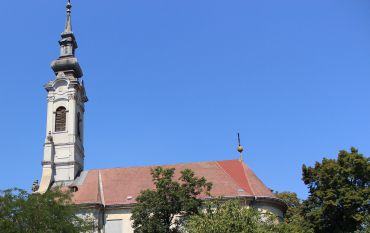 The Holy Trinity Church in Miskolc belongs to the Budapest and Hungarian diocese of the Moscow Patriarchate. This is an Orthodox church. The building was created between 1785 and 1806. It is one of the protected Hungarian architectural monuments. In 2017, funds were allocated to the restoration of the church. Nearby, in the building of the former parish school, the Museum of the Hungarian Orthodox Church is opened, where a huge collection of religious art works is presented.
Interior decoration
The temple is decorated with a gilded iconostasis, whose height reaches 16 meters. It was created in the workshop of Miklós Jankovic in the town of Eger. 84 icons of the church are the work of Viennese painter Anton Kuchelmeister. The most valuable property of the Church of the Holy Trinity is an icon presented to the church by Empress Catherine II.
How to get there
To get to the Orthodox Church in Miskolc, you need to get off at the Petőfi Tér stop using one of the buses: №  1, 1É, 54, 3755; or at the stop of Dózsa Gy, using one of the buses №  1383, 3701, 3755.