Minorite Church, Miskolc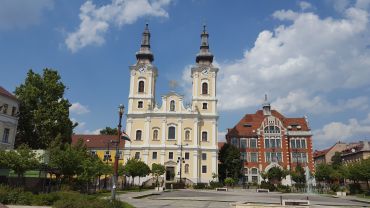 In the center of Miskolc, on one of its main squares – Heroes' Square, in addition to the famous monument to Heroes there is another attraction that deserves attention. This is the Minorite Church (Catholic Church of the Holy Virgin), a monument of religious architecture of the 18th century. In addition, the largest Greek Catholic church in Miskolc. In 1843, the church was damaged by a violent fire, which even melted the bells. Until 1845, it was quickly restored.
The pride of the Church of the Holy Virgin is its ancient altars, benches and a chair. The interior has remained almost unchanged for two centuries. Decorative painting in neo-baroque style was executed in 1928.
How to get there
Heroes Square and its sights, including Minorite Church, can be reached by public transport. To the Heroes' Square stop on one of the buses: No. 1É, 14, 20G, 28, 34, 35, 35R, 43, 44, 280, or to the stop Kazinczy Ferenc utca by bus number 11.