St Magdalene Church in Egregy, Heviz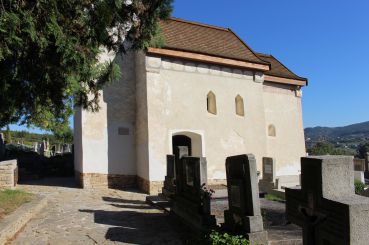 St Magdalene Church is located on the top of the Wine Egregy Hill in Hévíz, among the rich greenery of vineyards. The temple has existed here since the 13th century. The octagonal church from the time of the Árpád dynasty has been preserved almost in its original form and is now under the protection of the state as a historical and cultural monument. The main relics of the old village church are the medieval crucifix and the baptismal font dating back to the Roman era.
History of the Egregy Church
The first written records of this village church date back to 1341. To this day, the wedding ceremonies are sometimes held inside its walls. Despite the restrained decoration, the church is considered to be one of the most attractive ancient Hungarian churches. Most likely, due to its respectable age and unique atmosphere that you feel inside.
The interior of the church is very modest – wooden benches, an altar, a few old crucifixes and icons. The last reconstruction of the St Magdalene Church took place in 1731. The doors of the temple are always open to everybody. When you come here, there can be not a single person inside, so you can enjoy the solitude and the mysterious silence of the holy place.
Church cemetery
A sad but fascinating view opens up immediately beyond the gates of the St Magdalene Church. This is the old monumental cemetery, which can be safely included in the list of the sights of Egregy. Here you can spend a full tour, filled with amazing life stories. The interesting thing is that there are the tombstones without the last date. Some locals keep the tradition of taking care of their resting place in advance.
How to get there
St Magdalene Church is located at the top of Egregy Wine Hill, which is about a 20 minute walk from the center of Hévíz. You can reach it by the Dotto Trains tourist tram. This is the only public transport. There is a timetable for all stops in the city center. The fare is 1000 forints. At the foot of the vineyard hill you can visit the Roman Ruin Garden.